Special Funding Need: New ANTHC Patient Housing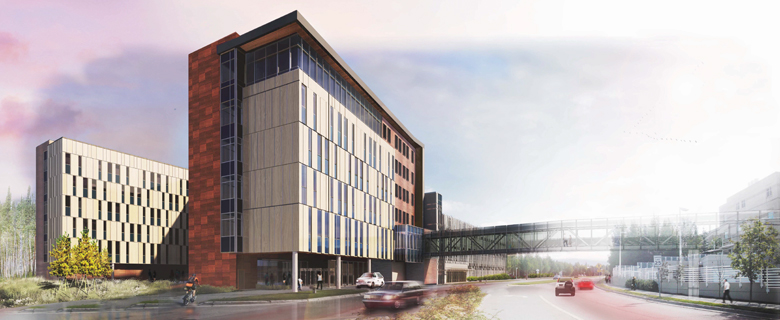 More than half of the patients at the Alaska Native Medical Center hospital travel from outside Anchorage to access a broad variety of health services. The Alaska Native Tribal Health Consortium is committed to ensuring that a lack of housing does not impact those seeking care. We are pleased to announce the opening of a new patient housing facility in early 2017. Our priorities are expanding services and support for our people who need care and providing a "home away from home" environment that facilities rest and recovery.
| | | |
| --- | --- | --- |
| 3x more capacity for patients and loved ones | Conveniently located on the Alaska Native Health Campus | Saves the State of Alaska $8 million per year |
Our Vision: Alaska Native people are the healthiest people in the world.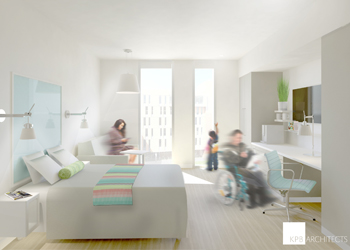 ANMC's Quyana House has provided 54 semi-private rooms adjacent to our hospital for many years. ANTHC also contracts with local hotels to ensure that there is enough housing for everyone who needs it. But that is not enough. In response to this need, ANTHC has made patient housing a top priority. The care and comfort of our patients and families is of the utmost importance to us.
Facility Amenities:
202 rooms over six floors, including a designated floor for new families

Direct connection to the ANMC hospital by sky-bridge

Gathering areas, separate dining and communal kitchens, and a business center

Access to nearby walking trails and a courtyard garden

A restful environment for healing and recovery
Resources and Documents
ANMC patients benefit from:

Increased capacity: 202 rooms triples our current capacity.
Better access: Patient lodging will be located on campus and will provide direct access to the hospital for Elders, expectant mothers, and our other patients.
Increased care for expectant mothers: For patients with high-risk pregnancies traveling from other regions, ANMC is a home away from home. These expectant families must come to Anchorage for the last 4-6 weeks of the mother's pregnancy so they can have immediate access to hospital care. This new housing facility will ensure a convenient and nurturing experience for the whole family.
Expanded Opportunity: This new housing provides another positive step on the care continuum for ANMC patients.
To learn more, watch the video below featured on KTUU's Morning Edition. The special announcement was made in January 2016 by the Alaska Native Tribal Health Consortium (ANTHC) about Alaska's first Ronald McDonald House coming to Alaska. LeeAnn Garrick with ANTHC explains what this means for children in Alaska who need medical care.

Thank you to our generous donors!
$100,000 and up
Rasmuson Foundation
Sonosky, Chambers, Sachse
$25,000 and up
GCI Healthcare
Kodiak Area Native Association
Ms. Myra Munson
$7,500 and up
Arctic Slope Native Association
Chugachmiut
Doyon, Ltd.
KeyBank Foundation
Plastic Surgeons of Alaska
$1,000 and up
Ahtna, Inc.
Bethel Community Foundation
Mr. & Mrs. Tasso & Vernè Boerner
Dr. Teresa Bormann
Dr. Richard Chung
Copper River Native Association
Donlin Gold
Gary Ferguson, NP
Mrs. Alberta Flannery
Mr. & Mrs. Roald & Carly Helgesen
Mr. Robert Henrichs
Ms. Kristel Komakhuk
Ms. Tzu-Ching Liu ANP, Zeizei, & Paul Hager
Mr. & Dr. Jim & Shanda Lohse
Maniilaq Associaton
Mr. Richard Monkman
North Slope Borough 
Ms. Kyan Olanna & Mr. John Kakaruk
Mr. & Mrs. Cameron & Kim Reitmeier
Mr. Aaron Schutt & Mrs. Marissa Flannery
Tanana Chiefs Conference
Mr. Jim Torgerson
Ukpeagvik Inupiat Corporation
WellsFargo
$999 and below
Ms. Susan Anderson
Ms. Connie Beemer
Mr. Art Behm
Mrs. Christina Beshaw
Bethel Chamber of Commerce
Bethel Native Corporation
Bethel VFW
Mrs. Stephanie Birch
Dr. & Mrs. Jay & Narda Butler
ConocoPhillips
Mr. & Mrs. Lincoln & LeeAnn Cooper Garrick
Ms. Dianna Finnerty
Mr. Tim Fitzpatrick & Ms. Tina Pidgeon
Frank Ferguson Foundation
Mr. Jay Frawner
Mr. & Mrs. Joe & Karen Furrer
Interior Regional Housing Authority
Ms. Allison Knox
Mrs. Kirsten Kolb
Mr. Gabriel Kompkoff
Dr. Aaron Kusano
Mrs. Stephanie Love
Mrs. Lori McCaffrey
Mr. Joseph McDowell
Mr. Joe Murry
Mr. & Mrs. Chris & Natalie Neeser
Mr. Phil Reid
Ms. Elizabeth Roll
Ronald McDonald House Charities of Western Washington & Alaska
Mr & Mrs. Alan & Milanna Shear
Mr. Colin Underwood